CD-ROM3-Classic NG Yesterday & Today-PICROM3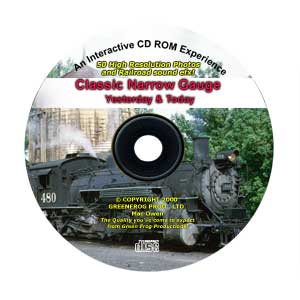 *An Interactive CD Rom Experience From the Mac Owen Collection - Print Quality Classic Pictures on CD Rom Classic Narrow Gauge yesterday & today

*Top Quality for Dynamic Prints!
*Color Balanced & Restored for Historical Accuracy!
*Restored images... some from the 40s!
*We have also included a program called -Slides & Sound Plus- that will automatically run a slide show on your computer screen of all the pictures, Plus it plays Railroad Audio Sound FX in the background if you have a sound card installed!
*Most photographs NEVER before seen!
*Modelers...you can zero in to count the rivets!
*Print them out in HIGH-RES using an Image Program like Adobe Photoshop on your own printer with quality Photo Paper and they ll look Better than Photo Lab prints!
*Use your own Web Browser to navigate this Interactive CD Rom!
*Less than 50 cents per picture...A Great Bargain.
A continuing series, more to come.....Vintage Diesels, Narrow Gauge, East, West, North South, More Steam! Over 6,000 pictures are in the works!