DVD-Building the D&RG vol4 (Chama to Cumbres)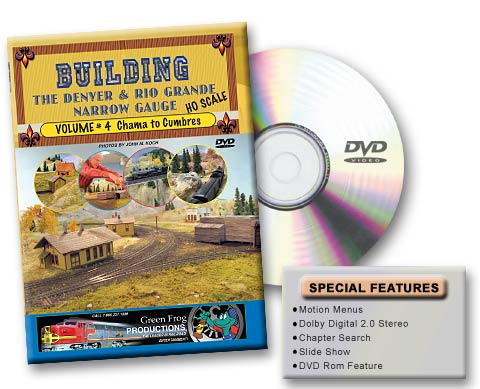 VOLUME-4 Chama to Cumbres

In Volume 4 of this series, we値l finally complete the Rio Grande Narrow Gauge taking you up to and completing the line to Cumbres.
We値l lay out the woodwork from Chama to Cumbres, and construct all the benchwork necessary. Then we値l build some bridges to take us over the Chama River.
Next, we値l lay track up to Cumbres, which will include a passing siding and a tunnel. The large snowshed that appeared at Cumbres in the working days of the Grande will be scratched in place.
Our artist, Pat Lemmerman, will paint some backdrops for our new scene out of Chama. There is a small lake at Cumbres, and we値l build that next.
Finally, the rugged scenery will be constructed up to Cumbres, to create the high elevations and the mountains surrounding the area.
We値l complete our program by running some trains for a live meet at Cumbres.

PHOTOS BY JOHN M. KOCH HO SCALE


Approx. 62 Minutes
Dolby Digital 2.0 Stereo



**COMPUTER ROM FEATURE-Load this DVD into your PC for HIGH-RES jpeg photos of the layout which you can print out on your own printer.