Neff DVD-N066-UNION PACIFIC'S FEATHER RIVER CANYON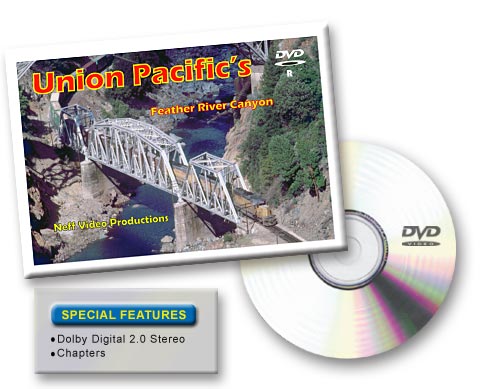 With the Contemporary Railroading Series, Neff Video Productions gives the viewer a line-side look at today's world of modern, high-tech railroading.
This program takes a Spring of 1991 look at the former Western Pacific Railroad's Feather River Canyon Route between Oroville and Portola, California. Now owned and operated by the UP Railroad, you'll have a trackside seat for some of the most spectacular railroad scenery in the country today.
With plenty of freight action through the twists and turns of the Canyon Sub, this video provides the modern diesel enthusiast with enjoyable viewing. From the rocky walls lining the canyon, to the grandeur of the Ponderosa Pines in the Sierra Nevada's, this is big time mountain railroading at its best.
Highlights include: historic Western Pacific film footage, Keddie Wye Bridge, Clio & North Fork Bridges, Williams Loop, lots of tunnels, brand new SD60M Super Cabs, UP'S Desert Storm diesel and much more.
60 minutes, full color, sound and narration.