Neff DVD-N063-Cab Ride on the I&O-Fall Railroad Passenger Excursion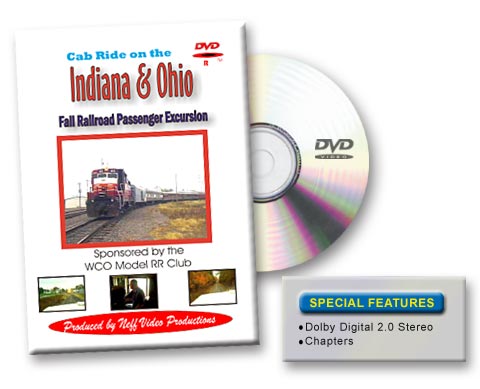 Climb aboard the diesel cab of an Indiana & Ohio GP30, former Nickle Plate engine, and enjoy the view of the railroad as a train crew would see it.
This event was sponsored by the West Central Ohio Model Railroad Club, Inc., of Sidney, Ohio. The purpose of the trip was a Fall railroad passenger excursion from Lima, Ohio to Springfield, Ohio and return. The trip was held on Saturday, October 13, and again on Sunday, October 14, 2001
Neff Video was given permission to capture the trip on video from the cab from Ford Park (Lima) to Springfield Yard (Springfield). You'll see the entire line of the 70 mile trip that includes the towns of Uniopolis, St. Johns, Jackson Center where we will meet a northbound train, Maplewood, Quincy including the High Bridge Trestle north of town, Rosewood, St. Paris, Thackery, Tremont and finally Springfield.
Listen to cab chatter between the conductor and engineer and the conductor and the dispatcher.
Three and ˝ hours long, full color, stereo sound, and no narration. On screen graphics indicate locations.