Neff DVD-N062-The Circus Comes to Town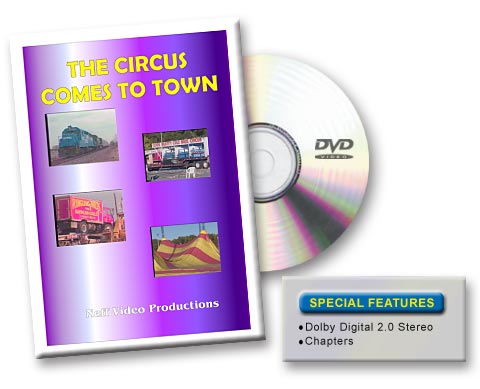 Witness the "behind the scenes" work involved in getting a circus to a performance by rail. You'll see a short segment of the Ringling Brothers, Barnum, and Baily Circus train unloading trailers and equipment near Fairborn, Ohio in preparation for the next show.
Since the RBB&B Circus no longer uses a tent, all performances are conducted within the confines of an indoor arena. The equipment must be unloaded from the train and hauled to the location by truck along streets and highways. Watch the Cole Brothers, Clyde Beatty Circus perform a different variation of this operation by erecting their own "Big Top" in the parking lot of Wright State University near Fairborn, Ohio.
You'll see the metal towers hoisted into place through the use of winches and cables. Watch as the tent is brought in sections by fork lift and unfolded and spread by many laborers. These canvas sections must be hand spliced together before being attached to the upright metal towers.
View the mass of canvas come to life and take the shape of a "Big Top" circus tent when the fabric is slowly raised to the top of the towers. This video is aimed at enthusiasts or modelers who have a profound interest in seeing the "behind the scenes" work involved in getting a circus ready for the "Big Show".
This video is in full color and sound, contains no narration, and is approximately 45 minutes in length.