Neff DVD-N055-Norfolk-Southernís Sandusky Line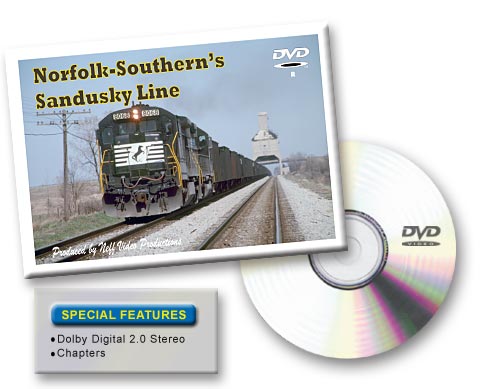 Visit Norfolk-Southernís busy mainline between Lewis Center (just north of Columbus) and Attica Junction (south of Bellevue).
NS has deemed this territory as a high-density line and is now (year 2000) in the process of upgrading this single track line to double. In addition, the old position light signals are being replaced by the more modern traffic light style signals.
In addition to the NS action, this video also includes footage of trains running on the CSX (former Conrail) line that parallels the NS line for a short distance between Lewis Center and Cheshire Road. We also include a few runbyís of CSX at Attica Junction on perhaps one of the busiest mainlines in Ohio.
Other locations include: Troyton, Waldo, Marion, Bucyrus, Chatfield and other locations in between.
One hour, full color, sound, graphics, and no narration.