Neff DVD-N051-Union Pacificís Chester Sub-Scott City MO to Gorham IL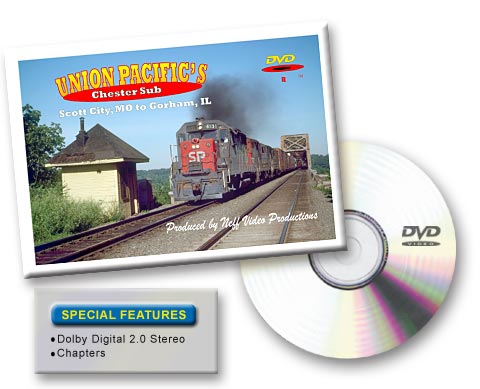 In October of 1998 Neff Video traveled to Southern Illinois to record the operations of Union Pacificís Chester Sub between Scott City, Missouri and Gorham, Illinois.
This line at one time belonged to the Missouri Pacific, now Union Pacific. The line from Thebes, Illinois to Dexter Jct., Missouri, a distance of 50 miles, belonged to the Cotton Belt, a subsidiary of the Southern Pacific Railroad. In the past these lines were operated jointly. Today, the Union Pacific now owns and controls the entire line.
Witness a ritual at Scott City, Missouri that has been discontinued. Until November 1, 1998, Scott City was the only railroad beanery left in existence in the United States. Watch as train crews grab hot meals ďon the flyĒ. Foreign powered as well as Union Pacific units are in abundance on this video.
See the parade of Rio Grande, Southern Pacific, Cotton Belt, SSW, Chicago & Northwestern, Grand Trunk, CN, NS, CSX, Conrail, M-K, and Amtrak. Catch all the action in this informative video including scenes taken at the Thebes Bridge crossing of the Mississippi River.
One hour, color, stereo sound, narration and on-screen graphics aid the viewer in the enjoyment of this exciting stretch of railroad.