Neff DVD-N049-Conrail's Office Car Special Pt3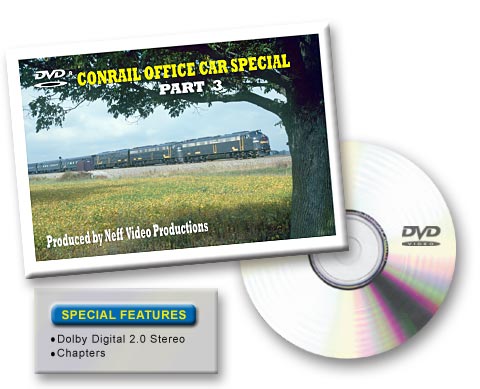 Continuing in our series coverage of Conrail's Executive Train, this last installment shows scenes of this dual-purpose train taken from ground level, whereas our first two volumes were cab rides.
Locations include: CSX Mountain Sub from Grafton WV to Cumberland MD, "HO Tower" near Hancock MD, Valley Falls State Park WV, Arcola IN, Van Wert OH, Lima OH, Ada OH, Dunkirk OH, Bucyrus OH, Crestline OH, Kenton OH, Degraf OH, Ridgeway OH, Dayton OH, Carlisle OH, Middletown OH, Miamisburg OH, Fairborn OH, Springfield OH, Snyderville OH, London OH, Ardara PA, Wilmerding PA, Greensburg PA, Palmyra PA, Hershey PA, Gallitzin PA, Rockville Bridge near Harrisburg, and other locations.
One hour, full color, sound, narration and on-screen graphics.