Neff DVD-N044-Conrailís Lake Shore Line Pt3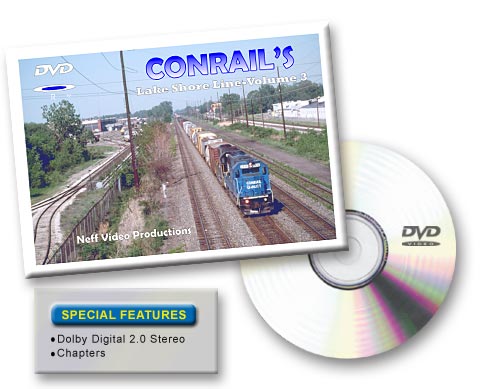 Visit Conrailís high-density main between Erie, PA and Dunkirk, NY.
This program was shot in October of 1998 against a backdrop of blue sky and Lake Erie water and gorgeous fall colors. Since Norfolk-Southernís Buffalo to Bellevue line parallels the Conrail line and in many cases is just a short distance from each other, we have taken the liberty of enclosing NS footage also.
Foreign power is seen in abundance and includes power from the Wisconsin Central, UP, CSX, BN, and others.
Full color and stereo sound with on-screen graphics depicting train symbols, origins, destinations, and scene locations.
No narration. 74 minutes in length including previews.