Neff DVD-N037-Missouri Hot Spots-Kirkwood Hill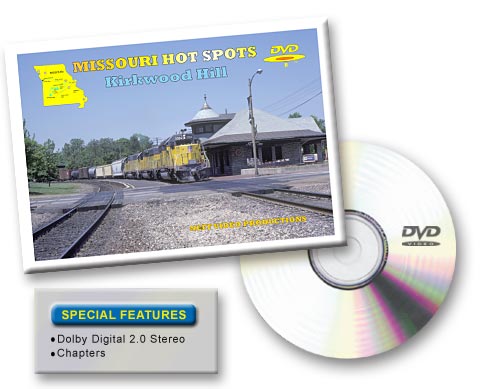 Join us for a tour of one of Missouri's most popular railfan hot spots, Kirkwood Hill.
Kirkwood is a suburb of St. Louis and is home to the St. Louis Transportation Museum. This former double-tracked Missouri Pacific line is now owned and operated by the Union Pacific Railroad. This hill is an operational nightmare with its formidable grade that crests near the Kirkwood Depot and the numerous "S" curves leading to the top of the hill.
Neff Video spent two days not only in Kirkwood but also in the area west of Kirkwood including action at Grays Summit, Eureka, and Pacific, Missouri. Burlington Northern/Santa Fe runbys are included as well as their track, the former Frisco, parallels the UP tracks in the Eureka/Pacific area.
Freight action as well as Amtrak runbys are included. Enjoy beautiful fall foliage at its peak.
One hour (45 minutes of program plus 15 minutes of new previews), full color, stereo sound, and no narration. On screen graphics indicate locations.