Neff DVD-N031-Illinois Hot Spots -Pt2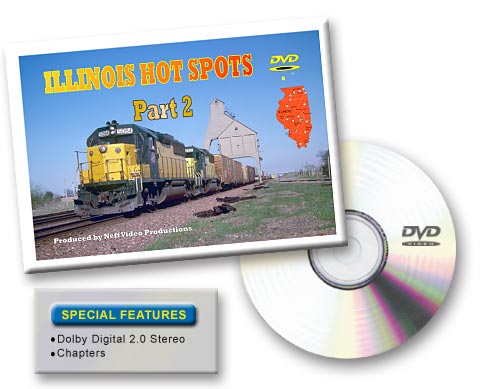 Join us for a tour of two of the busiest and easily accessible railroad corridors in the Mid-west.
Freight, commuter, and Amtrak operations are shown. First we explore the Union Pacific, formerly Chicago & Northwestern, line between Rochelle and Lombard, Illinois.
Locations included are: Rochelle, Creston, Malta, DeKalb, LaFox, Geneva, West Chicago, Winfield, Wheaton, and Lombard. Next we cover the Burlington-Northern/Santa Fe trackage between Aurora and Downers Grove.
Locations included are: Aurora, Eola, Route 59, Naperville, Lisle, Belmont, and Downers Grove. Enjoy dramatic night videography at Naperville, Lombard, West Chicago, and Wheaton where the lights from the adjacent soccer field give almost daylight illumination.
Power from CNW, UP, BNSF, BN, ATSF, CN, SP, Rio Grande, Conrail, Metra, and Amtrak are represented as well as numerous leased units.
One hour, full color, sound, and no narration. On screen graphics indicate locations.