Neff DVD-N029-Steam & Diesel in Wisconsin & Illinois-Pt2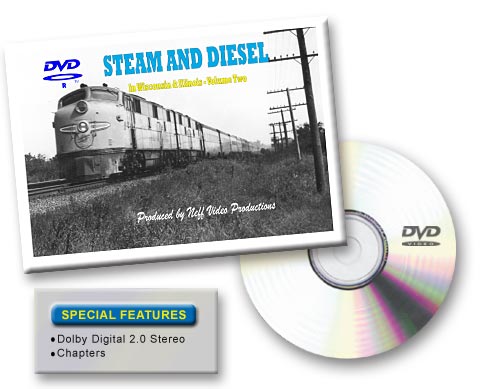 Volume 2 contains more outstanding footage of steam, diesel, and electric action in Wisconsin, Illinois, and other areas.
Highlights include: the Lorain, Ohio coal car dump, Eisenhower's train at Fond du Lac, the Flying Scotsman, the last train from Marshfield to Fond du Lac, St. Louis Union Station, Englewood Union Station, Great Northern at Duluth, Aurora, Joliet, Beaver Dam, Racine, North Shore, South Shore, Illinois Terminal, and the EL.
See both freight & passenger action represented by the Santa Fe, Rock Island, Pennsylvania, NYC, NKP, Wabash, CNW, Milwaukee Road, and others.
One hour, no narration, and musical background.