Neff DVD-N025-CSX Henderson Sub-Nashville to Evansville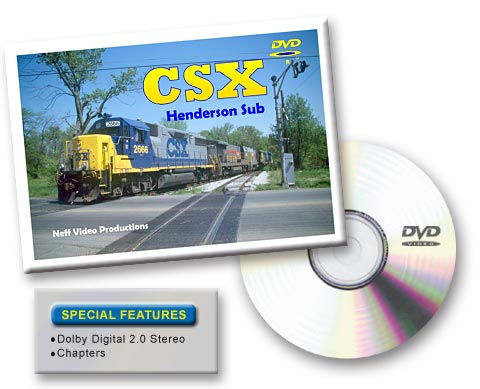 Join us as we tour this busy, 25+ trains per day, single track line between Amqui (Nashville, TN) and Evansville, IN.
Hot TV trains, grain trains, time freights, plus unit ore and coal trains are viewed as well as quick tours of Atkinson Yard in Madisonville, KY and Howell Yard in Evansville, IN.
Included also are the Paducah and Louisville and R.J. Corman Railroads that interchange with CSX on this subdivision.
Other locations of interest are: Baker Tunnel, Sulfur Fork Creek Trestle, Red River Trestle, Gum Lick Trestle, the Ohio River Bridge, and meets at numerous passing sidings.
Full color, stereo sound, and narration. 82 minutes.