Neff DVD-N011-RAILíS Ď88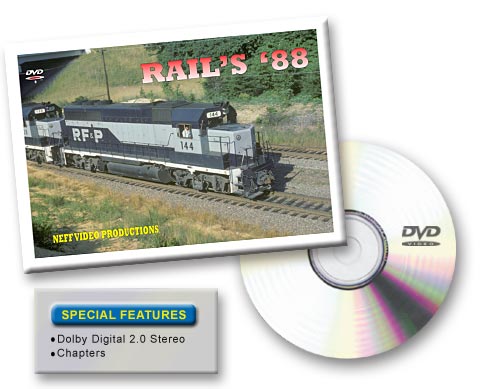 This video covers three different subjects. The first part is on the Richmond, Fredericksburg & Potomac Railroad.
Though no longer considered a class one railroad, it still sees plenty of action, nonetheless. During the long summer daylight hours, it is still possible to see ten freight and passenger (Amtrak) trains a day.
This line is covered from Lorton to Doswell, Virginia. The second portion of this video will be on the all Alco shortline, the Winchester & Western. Youíll see this Railroad struggle daily to get itís trainload of sand hoppers From Grove to Winchester, Virginia some twenty miles away.
On this line it is possible for a train with 15 Hoppers to be in three curves at once. On top of that a 2% grade at Gainesboro has to be negotiated and if that Isnít enough, numerous cattle crossings have to be dealt with.
The third and final portion of this video is on one of Indianaís best train watching locations, Muncie, Indiana.
Plenty of Conrail and Norfolk Southern action is shown in this segment. Color, Sound, No-Narration, One Hour Long.