Neff DVD-N010-TRACKLESS TROLLEYS of Dayton, Ohio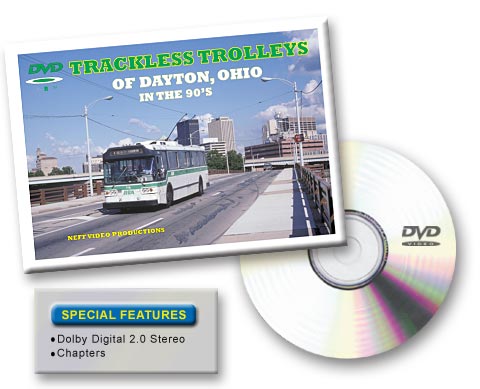 Learn why Dayton's RTA has reversed its decision on phasing out the trolley system, and what the future holds for this unique form of transportation.
This video contains vintage footage of the RTA's Christmas Trolley #559 which now resides in San Francisco, California.
Also included are vintage shots of #501 and #900. Narration for this program is provided by Harvey Hylton, who is the traction editor of the Dayton Railway Historical Society Ties and Tracks Newsletter. Harvey was also a member of the "Save Our Trolley's Coalition".
Modern day footage shot in 1990 and 1992 is also included in this program.
55 minutes in length-full color-narration-sound and some music.