Neff DVD-N009-The Illinois Central (Past & Present)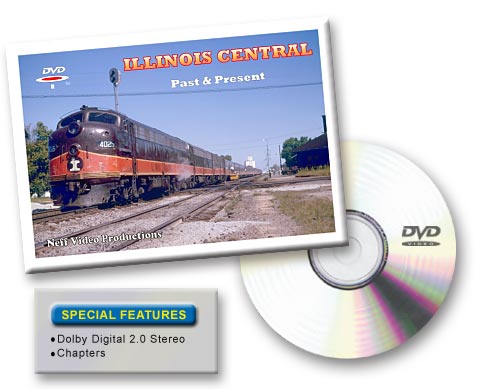 In this program you will see vintage 16mm movie footage of both freight and high-speed passenger operations of the Illinois Central Railroad as it was in the late 60's.
Trackside shots of crack passenger trains such as The City of New Orleans, The Creole, The Panama Limited-Magnolia Star, and the Seminole are shown, as well as a quick cab ride aboard the City of New Orleans on an E-unit speeding at more than 110 mph between Champaign and Effingham Illinois.
The last half of this video will deal with the operations of the "new" Illinois Central in 1989. This video covers the line between Matteson south to Tolono.
A wide variety of color schemes will be shown including the "Back To Basics" black.
Color, sound (some music), no narration, on-screen graphics,one hour.