Neff DVD-N006-CSX in Western Pennsylvania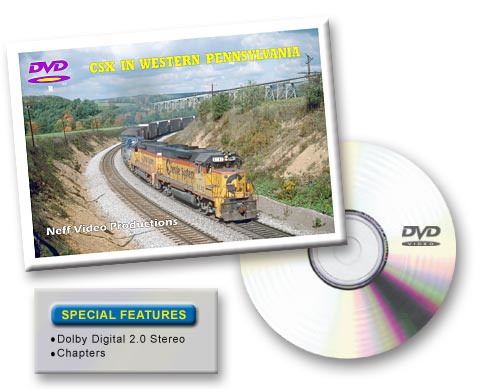 This program covers the action on Sand Patch Grade from 1987 to 1989 between Rockwood and Hyndman.
You'll see single helpers on the west slope and as many as three units pushing on the east grade to the Summit of the Alleghenies. Locations featured include Rockwood, Garrett, Salisbury Jct., Meyersdale, Glade City, Keystone Viaduct, Sand Patch, Manila, Mance (the B&O's Horseshoe Curve), Glencoe, South Hampton, Foley, Falls Cut Tunnel, Fairhope and Hyndman. Many different color schemes are shown.
Color, sound, some music, no narration, on-screen graphics. One hour.