Neff DVD-N003-NEW JERSEY TRANSIT Push Pull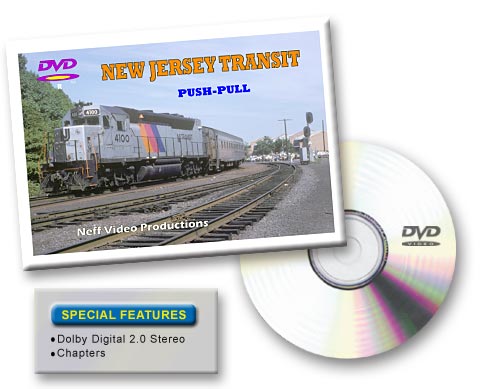 See what the New York & Long Branch Line looks like today.
Starting at the new Long Branch Station itís strictly diesel power to the end of the line at Bay Head Junction. You will see some of the oldest and newest depots in New Jersey at locations including Long Branch, Elberon, Allenhurst, Asbury Park, Bradley Beach, Belmar, Spring lake, Manasquan and Bay Head with the following motive power featured:
F40PH, GP-40-2 & GP40P. We then return to Long Branch which is the end of the line of the electrification and now takes the place of South Amboy for engine changes.
Additional trackside scenes include E-60 electrics at Monmouth Park, Little Silver, Red Bank, Middletown, Hazlet and Matawan.
Full Color, sound, one hour & no narration.