Carson Picrom 23-Wabash Railroad-The 1940s to 1960s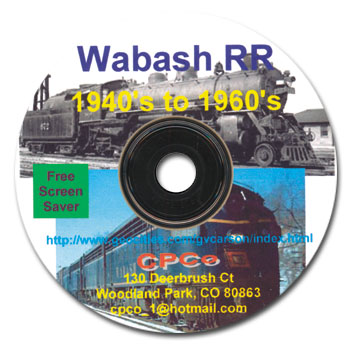 52 color and black & white photos of the Wabash Railroad from the 1940's to mid 1960. This is a compilation of steam and early diesel photos. Includes FA's, F7A's plus other diesel units and a couple of caboose's. Run Time Approx. 8 Minutes

From the Jerry Carson Collection!
Play on PC Only!
Photo CD?s featuring rail photos from the 50?s through the 80?s. The programs consist of high quality images compiled into a slide show with music background. They are supplied with both 800 x 600 or 1024 x 768 resolution to match your computer monitor. A complete printable file of all the photos in high quality jpeg format and free screensaver program included.