Carson Picrom - Illinois Terminal Railroad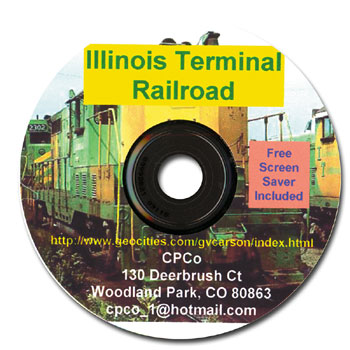 145 photos of the Illinois Terminal R.R. motive power and equipment in the 50's to 70's. Includes a good asortment of both traction and diesel motive power plus some caboose and equipment photos. Approx.14 Mins.

From the Jerry Carson Collection!
Play on PC Only!
Photo CD?s featuring rail photos from the 50?s through the 80?s. The programs consist of high quality images compiled into a slide show with music background. They are supplied with both 800 x 600 or 1024 x 768 resolution to match your computer monitor. A complete printable file of all the photos in high quality jpeg format and free screensaver program included.