Neff DVD-N047-24 Hours at Centralia, Illinois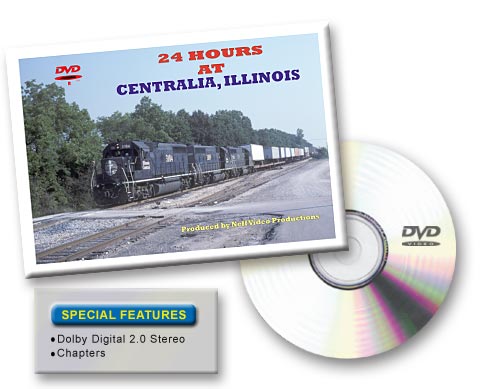 On Friday, April 30, 1999 Neff Video traveled to Centralia, Illinois at the request of local railfans to record the train activity in a 24 hour period. Most of the action occurred in daylight but night action was recorded as well due to the excellent lighting conditions at the site of the former Amtrak Station.
Three railroads are represented: Illinois Central, Norfolk-Southern, and Burlington Northern-Santa Fe. Traffic patterns have increased dramatically since our last visit ten years ago. Thirty-six train movements were recorded in this 24 hour period.
It would have been more had not a hazardous material car derailed causing the BNSF and NS mains to be shut down for nearly eight and ½ hours.
Full color, sound, narration, and graphics. One hour.