Neff DVD-N040-Detroit, Toledo, & Ironton-Grand Trunk Series Pt3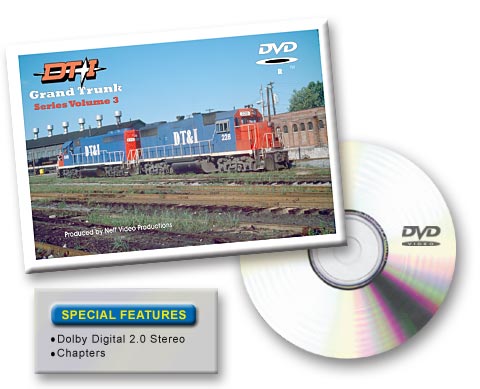 Join us for a tour of the former DT&I/GTW Railroad in the middle 80's.
Our visit will start with the Cincinnati Gateway and end with the Delta Hill in the northwestern part of Ohio. Locations include: L&N's Decoursey Yard, Queensgate Yard, Maud Hill, Miamisburg, Dayton, Fairborn, Enon, Cold Springs Jct., Maitland, Tremont City, Thackery, St. Paris, Quincy Siding, Quincy, Jackson Center, Uniopolis, Ford Park (Lima), DT&I Jct., Columbus Grove, Hamler, Malinta, the Maumee River Bridge, and Delta Hill.
You will also see four towers and they include: Cold Springs, Morgan, "CG" (Columbus Grove), and Hamler. We'll even take you inside Cold Springs and Morgan Towers. For your enjoyment, this program also includes pacing shots between Columbus Grove and Ottawa, Ohio.
Cabooses are in abundance as well as a cornucopia of engine paint schemes including the last locomotives that the DT&I purchased (GP40-2's) in the new star logo.
One hour, full color, sound, narration, maps and on screen graphics.