1995 Freight N.G. Video 53152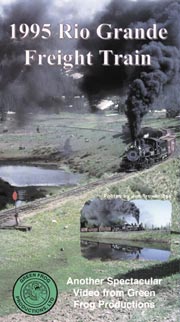 Follow Rio Grande K-27 and an authentic D&RGW freight through the mountains and prairies of the Rockies.
The line transverses the territory from Chama, New Mexico to Antonito and return. Many, many runbys in remote locations mostly only accessible by train! If you want to see how it really was back in the 30's or 40's, then this freight extra is for you! Professionally taped by noted video photographer Leon Oakley. Approx. 60 minutes...