Kids' Tapes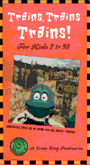 Trains, Trains, Trains for Kids 2 to 92...
For kids young & old. Join K.C. Frog (a Jim Henson crew built Muppet) on a tour of real and model trains. See how they work and why...
30 Minutes... $19.95...Order tape #53107
---
|| All Aboard || Specials || E-mail Us || HOME ||
---
The White House in Miniature
A National Treasure
Constructed by John, Jan and the Zweifel Family
A spectacular video ONLY from Green Frog! The ultimate in miniature modeling...the entire White House in 1 inch scale. Over 40 feet long! Built over a 20 year period, and seen by over 50 million people around the world, this incredible model of the White House is also fully detailed inside and out as it appears today in real life. If you want to re-live the history of our country, including viewing a 1 inch scale replica of the construction of the White House in George Washington's time, plus visit each room of the White House, and listen to the history that made this the most famous building in the world, then this tape is for you.
Also included are scenes of oval offices of many presidents!
Tape # 53151---30 min....$19.95
---

This Little Dollhouse
Volume 1

Volume One begins construction of a large Victorian dollhouse, including major modifications to a well known kit. Visit fine collections of dollhouses, and also visit a Miniature Shop and Museum; view an amazing collection of castles and dollhouses! Finally, tour some beautiful room boxes. Hosted by dollhouse collectors and builders Nancy Van Horn and Ron Mummert.....35 Minutes..$19.95...# 75000
This Little Dollhouse Vol-2

In this spectacular continuation of our dollhouse series, we will visit Tom Bishop's Chicago International Convention for discussions with and displays of the artisans and dealers from all over the world who attended this incredible convention. Then we will continue the construction of a custom dollhouse with host Ron Mummert of Ron's Miniatures in Orlando, Florida. We'll also visit a number of private collections at the Gainesville, Florida Dollhouse Collectors group. And finally, we'll take a continued look at some of the over 140 room boxes, that collectors supplied to Ron's Miniatures contest in Orlando, Florida . 45 minutes...# 75001

---
Modeling
Some of the finest narrow gauge layouts are being built in the Pacific Northwest. In this video, Green Frog brings you four beautiful finished layouts of well known modelers Paul Scoles, Dave Woodrell, Jim Noonan, and Bill Busacca. Paul Scoles' freelance layout features incredible Sn3 railroading in the Pacific Northwest. Dave Woodrell's Sn3 layout shows us the Rio Grande Southern as it appeared in the late 30's from Ridgeway to Rico. Jim Noonan's modeling shows us the Rio Grande Southern in HOn3 from Ridgeway to Telluride. And finally, Bill Busacca's Sn3 operating layout features the Rio Grande Southern town of Dolores, Colorado in the 40's. Green Frog captured these layouts as if they were filmed in real life. Authentic real locomotive sounds are heard as we follow these trains up and down their respective lines. Professional narration describes the modelers work and the locations that have been modeled. Order

Approx. 55 Minutes...# 53179 $29.95 + s&h
The Appalachian Coal Industry - Modeling the Prototype...
The first in a series of modeling the real thing. Visits to two very fine layouts, and comparisons to the prototype make this tape a must for modelers and railfans alike...60 minutes... $24.95... Order tape #53078
---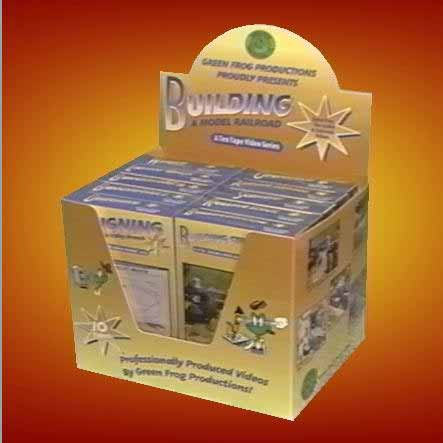 Building a Model Railroad...
This Ten Tape video series is designed to lead a modeler through all of the steps necessary to build a train layout, whether this one or one of their own design. A lot of basic steps are covered, but each tape also has useful tips and techniques that the more experienced modelers will find beneficial. The layout itself was designed by Model Railroader and Senior Editor, Jim Hediger and appears in the April, 1995 issue of Model Railroader. Each tape is approximately 30 minutes. They are available individually or at a discount for the whole set.
Tape 1: Designing the Apple Valley Branch... This first tape in a ten tape series provides an introduction to the entire project. A major portion of the tape will show how the Green Frog staff took Jim's drawing and made a working plan for the construction of the layout using the computer aided design program, CadRail. You will also visit a hobby shop for an introduction to what the beginning modeler might find in the way of tools, kits, supplies, and most importantly, HELP! ... $19.95... Order tape #70001
---
Tapes 2 & 3:
Benchwork 1
Benchwork 2..
Smooth running trains and believable scenery depend on a good foundation, the benchwork. This tape shows step by step how to assemble the tried and true method of benchwork known as L-Girder construction. It is light weight, but strong and secure.
Because the Apple Valley Branch had to be portable, consideration was given in the design and building of the benchwork so the layout could be split into two parts for transporting. Techniques are shown for attaching the two halves of the layout so the track and scenery will re-align themselves every time the layout is taken apart and put back together again.
Part 1 covers the construction of the legs, L-girders and lower level of the Apple Va lley Branch.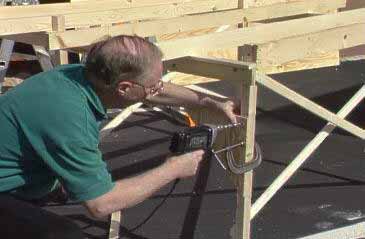 Part 2 continues with the cutting of roadbed and construction of the upperlevel branch line of the Apple Valley Branch...
Order tape #70002 for Part 1... Order tape #70003 for Part 2... $19.95 each
---
Tape 4: Laying Track...
After the layout is designed and the benchwork built, the usual place for modelers to move next is to the laying of track. This tape covers many techniques for laying Atlas' Code 83 flex track and turnouts for smooth operation on the Apple Valley Branch. The tape begins with transferring the track plan from paper to the table top or sub-roadbed and laying the roadbed. The tape continues with placement of turnouts, cutting and fitting flex track, installing bridges, and making provisions for separating the layout into sections (also used for modular layouts). Also included is the installation of two types of ground throws for switching the turnouts... $19.95... Order tape #70004
---
Tape 5: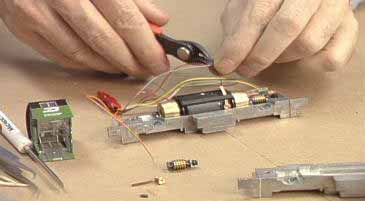 Wiring for Command Control...
Command control is far more technologically advanced than the simple transformer yet it is easier to wire a layout and simpler to use. The tape begins with a brief introduction to command control and its primary differences with the basic transformer. Next, the wiring of the Apple Valley Branch track is shown complete with a reversing loop. What might be considered to be the most difficult part of installing command control is the installation of a receiver or decoder in each locomotive. A. J. Ireland of Digitrax makes it simple with easy to follow steps as he shows how to install decoders in five HO diesels. We continue with the installation of a decoder in an N scale diesel and in an HO brass steam locomotive. The tape will also show how to wire the turnouts for providing power to the frogs with a Caboose Hobbies ground throw. Finally, as an added bonus, there is an installation of Circitron's optical sensors for detecting trains on hidden trackage ... $19.95... Order tape #70005
---
Tape 6: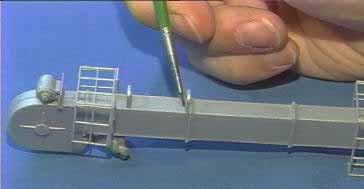 Building Structures...
This tape is NOT about taking one structure kit and going through each and every step of building a kit. What this tape shows are a variety of steps and techniques using several of Walthers' Corner Stone series of kits. The most time spent on building a structure is usually spent preparing the individual pieces before they are assembled. This tape shows how the parts can be removed from a sprue, cleaned up, painted (both with an air brush and a paint brush) and assembled. Sometimes a kit is not available or hard find. An introduction to scratch building shows how to easily build items from Plastruct's line of parts. Also covered is the decaling, dry transfers, adding mortar to bricks, and weathering to make your model look more like they belong in the real world ...
$19.95... Order tape #70006
---
Tape 7: Rolling Stock...
Many fine kits of HO scale freight cars are available that take little time to assemble and provide a means to quickly populate a layout for plenty of action. Many of the steps for building different types of cars are shown. The tape shows how to air brush a car and letter it for a different railroad. Kadee couplers have become an unofficial standard for model railroading due to their close-to-prototypical appearance and good operation. The provisions made for Kadee couplers varies between equipment manufacturers and several examples of their installation are shown. Weathering of cars is included with an air brush, chalks, and the dry brushing technique... $19.95... Order tape #70007
---
Tape 8: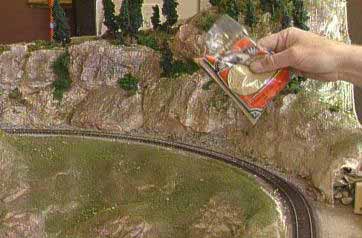 Scenery...
How many layouts have you seen that have track, structures, cars and locomotives, and never progress to the scenery stage. Your imagination fills in the scenery for awhile, but then reality takes over and it looks like track on top of wood. Scenery is not that difficult with Woodland Scenics' products and this tape will show you how to easily create scenes that will make your layout come alive. The shapes of mountains are formed, the plaster rocks are added, the scene is colored, zip textured, and foliage added. Instant scenery made simple. Extra touches include cutting and installing fascia boards, adding water, building roads, and installing tunnel portals ... $19.95... Order tape #70008
---
Tape 9: Adding Realism with Finishing Touches...
A layout with track, rolling stock, buildings and scenery looks like a true layout that the builder can be proud of. But what is often missing are the details, those extra touches that makes scenes look like people actually inhabit your model world. Many examples of details are provided on this tape to give ideas of what can be done to take a scene from plain and ordinary to something that really stands out. A well detailed scene takes on a life of its own and will have visitors spending a lot of time looking for and enjoying all the detail... $19.95... Order tape #70009
---
Tape 10: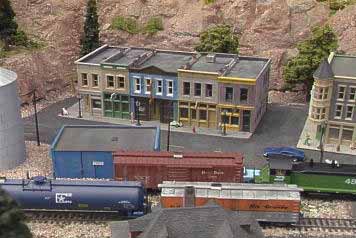 Operating the Apple Valley Branch...
The previous tapes in this series covered everything to build an operating layout. It is often said that a layout is never truly finished. There is always more detail that can be added, changes in scenery, structures, cars, etc. But while those things can be done over a period of time, it is now time to settle in and do what this layout was designed for in the first place; operating. We have created a mythical location in Washington state where the Burlington Northern comes through a small town between major cities. This alone creates a variety of railroad traffic, but a loop of track can quickly become boring. The major feature of this layout though is the long branch line leading to major businesses. Two, three, or even more engineers can be kept busy moving traffic ... $19.95... Order tape #70010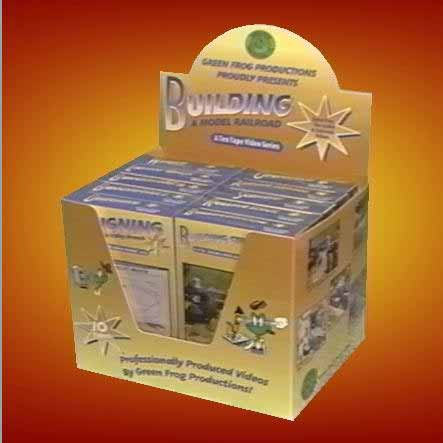 Order all ten tapes in a special box with plans for $109.95..
add $10.00 Priority mail S&H... order #70000.
"Your Building a Model Railroad videotapes have saved me more than they cost" ...JAQ
---
|| All Aboard || Specials || Product Index || Orders || E-mail Us ||
---
Railfanning the Santa Fe - Modeling for Photography ...
Gary Hoover has three hobbies, railfanning, model railroading and photography. This video tour of his layout shows how he has incorporated scenic elements and structures into a fantastic layout designed for photography. In addition, Gary will show how he modeled those great waves in his Pacific Ocean scene. 60 minutes ... $24.95... Order tape #53125.
---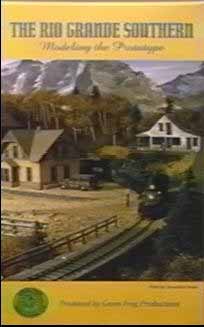 The Rio Grande Southern - Modeling the Prototype...
... Fantastic On3 layout, photos from Mallory Hope Ferrell collection and video today of the abandoned right of way of RGS, plus an incredible mini-clinic on building evergreen trees! Learn about the RGS, and how you can model it, buildings, scenery, etc... 60 minutes... $24.95... Order tape #53091
Styrene; The Ideas, Tips & Techniques

By Dean Freytag. Whatever you wanted to know about buildung with styrene is included in this tape. Demos with actual structures under construction, cars, buildings, locomotives from a master Model Railroader...

60 Minutes...# 53062 $24.95 + s&h Order
---
---
|| All Aboard || Specials || E-mail Us || HOME ||
---
This page is produced and copyrighted by Green Frog Productions, 2000

We welcome your questions and comments. Please contact Green Frog at grnfrog@mindspring.com