Check out our latest Sale and catalog...Click Here!
---
NEW.....An Interactive CD Rom Experience

From the Mac Owen Collection - Print Quality Classic Pictures on CD Rom

Classic Steam Locomotives in the Eastern U.S. vol-1

*Top Quality for Dynamic Prints!

*Color Balanced & Restored for Historical Accuracy!

*Restored images... some from the 40s!

*We have also included a program called -Slides & Sound Plus- that will automatically run a slide show on your computer screen of all the pictures, Plus it plays Railroad Audio Sound FX in the background if you have a sound card installed!

*Most photographs NEVER before seen!

*Modelers...you can zero in to count the rivets!

*Print them out in HIGH-RES using an Image Program like Adobe Photoshop on your own printer with quality Photo Paper and they ll look Better than Photo Lab prints!

*Use your own Web Browser to navigate this Interactive CD Rom!

*Less than 50 cents per picture...A Great Bargain.

1st CD Rom in a continuing series, more to come.....Vintage Diesels, Narrow Gauge, East, West, North South, More Steam! Over 6,000 pictures are in the works!

CD Order# PICROM1...$24.95 +s&h Order
---
The Susquehanna along the Southern Tier

Join Green Frog photographer Rich Kugel as he takes us on an incredible journey following the New York, Susquehanna, and Western Railroad along their route from Northern New Jersey to Binghamton, New York. From Binghamton, we head west along New York States Southern Tier in this exciting tape that was four years in the making. Highlights of this breathtaking odyssey include: *Susquehanna Railroad trains between New Jersey and Binghamton, NY. *Locations along the legendary Delaware Division including Millrift, Lackawaxen, *Gulf Summit, Starrucca Viaduct, and Susquehanna. *The Binghamton area including the Canadian Pacific at Harpursville Trestle, Beldon Hill, and Tunkhannock Viaduct. *Operating semaphores between Binghamton and Buffalo, NY. *Conrail and Norfolk Southern trains soaring over Portage Viaduct, one of the highest railroad bridges in the Northeast! We ve also included several then and now scenes, showing what the line looked like under former owner, the Erie Lackawanna Railway. You ll be amazed at the astounding variety of trains along this scenic and historic line and will quickly understand why the Southern Tier is one of the most revered lines in the Northeast! Tape #53186

HI-Fi Stereo Sound! Approx 90 minutes...$29.95 +s&h Order
Union Pacific Super Railroad Vol-6 Lordsburg Sub The Scenic Southwest

In Volume 6 of our UP- Super Railroad series, Green Frog visits the Union Pacific as it traverses through the rugged and scenic southwest, with its cactus deserts and rugged mountains. We ll visit the Lordsburg Subdivision, starting in western New Mexico at Lordsburg then west to Gary, Mondel, and Stiens. Next we ll take you over the pass into Arizona and west through Yannar, Simon, Bowie, and Wilcox. Then travel with us to Fenner, Benson, and Marsh. Then we will thoroughly explore the beautiful and scenic Ceinega river valley where each turn brings a different scene. We then head west to Vail and Tucson. Last we head down to old Mexico on the Nogales branch from Tucson to Nogales Mexico. Tape #53185

Stereo HI-FI Sound... Approx...60 Minutes... $29.95 +s&h Order
50's Memories of the Rio Grande N.G.

Travel with the camera of E. Macdougall "Mac" Palmer back to the 50's as we follow the REAL Denver & Rio Grande narrow gauge in this spectacular video.

We'll take you from Alamosa to Durango, Chama to Alamosa, Gunnison through the Black Canyon (with the bumble-bee number 268), then on to Marshall Pass where we'll catch the scrap train. Next We'll visit Monarch Pass and witness some rare scenes of the Limestone operations. We'll also visit Salida, and finally take a trip from Durango down the Farmington branch all the way to Farmington where we'll catch one of the Rio Grande Mikes switching industries in Farmington.

Hosted and Narrated by Mallory Hope Ferrell!

HI-FI STEREO sound...all color, some B/W stills...Approx. 50 min...$24.95 + s&h...

Tape # 53184 Order
Rich Scheid's professional digital camera takes you to the Pacific Northwest on Burlington Northern Santa Fe's Gateway to the Pacific. We'll travel along the Columbia River Gorge with B.N.S.F. on the north side and follow Union Pacific along the south side. Then we head up to the Seattle-Tacoma area visiting the yard at Tacoma and next travel east to spectacular Mt. Rainer. We'll also visit Thrum, Puyallup, Sumner, and Auburn. Sunset Falls, and Skykomish are our next stops on spectacular Stevens Pass, followed by the newly opened Stampede Pass. We'll also catch the Amtrak Talgos on the Cascade service between Seattle and Eugene, Oregon. Here is a tape you won't want to miss!

Spectacular HI-Fi STEREO sound!

Approx. 60 Minutes...$29.95 Tape # 53182 Order
Follow photographer Rich Kugel as he takes us on a whirlwind tour of railroading in the Chicago area in the latter part of the millennium. This all new tape covers the city of Chicago, as well as the North and West suburbs of Chicago. In Volume 1 we visit Roundout, Des Plaines, Rochelle, Bensenville, Franklin Park, Elmwood Park, Elmhurst, LaGrange, Highlands, and Hinsdale. Also included are some spectacular aerial shots of yards, and interchanges! You'll certainly enjoy our "story within a story" of action at Elmwood Park. We call it 60 minutes at Elmwood Park! Although we've compressed the action to only about 8 minutes, you'll be amazed at the traffic this 3 track mainline can develop in only a short time. Also included on this tape is exciting coverage of 261, the Milwaukee Road Northern 4-8-4! With its comprehensive coverage of the Chicago area, this tape has it all! Beautifully photographed with live dynamic Hi- Fi STEREO sound.

Approx. 69 Minutes...# 53181 $29.95 + s&h Order
Rails Chicago The Late 90's Vol-2

Green Frog photographer Rich Kugel takes us on a whirl wind tour of more Chicago "hotspots". This tape covers the area's southern and eastern regions in this spectacular sequel to Volume 1. Locations visited include Lemont, Joliet, Hayford Jct., Homewood, Dolton, Thornton Jct., Elkhart, and many more! Also included is more footage of 261, the Milwaukee Road Northern 4-8-4! And if that weren't enough, we've also included more breathtaking aerial footage of yards and junctions taken from a helicopter! Don't miss this exciting follow-up to Volume 1 as we conclude our visit to the nation's Railroad Capital!

Hi- Fi STEREO sound Approx. 60 Minutes... Tape # 53183 Order
Some of the finest narrow gauge layouts are being built in the Pacific Northwest. In this video, Green Frog brings you four beautiful finished layouts of well known modelers Paul Scoles, Dave Woodrell, Jim Noonan, and Bill Busacca. Paul Scoles' freelance layout features incredible Sn3 railroading in the Pacific Northwest. Dave Woodrell's Sn3 layout shows us the Rio Grande Southern as it appeared in the late 30's from Ridgeway to Rico. Jim Noonan's modeling shows us the Rio Grande Southern in HOn3 from Ridgeway to Telluride. And finally, Bill Busacca's Sn3 operating layout features the Rio Grande Southern town of Dolores, Colorado in the 40's. Green Frog captured these layouts as if they were filmed in real life. Authentic real locomotive sounds are heard as we follow these trains up and down their respective lines. Professional narration describes the modelers work and the locations that have been modeled.

Approx. 55 Minutes...# 53179 $29.95 + s&h Order
The state of Oregon hosts the very last steam operated sawmill in the United States. This huge complex is served by a standard gauge railroad, itself operating vintage GP- 9 diesels. We'll take you on a complete tour of the workings of the sawmill, inside and out. We'll follow the logs from delivery, to the mill pond, to debarking, sawing, edging, sorting, and finished goods. We'll even take you into the boiler house where you'll witness a by- gone era of steam engines and boilers built around the turn of the century. If you are interested in, or model the logging industry you won't want to miss this fantastic video!

Approx. 30 Minutes...# 53180 $14.99 + s&h Order
Photographer Rich Scheid's professional digital camera captures the last winter for Conrail, and the worst in Conrails history. Taped on the Dearborn Division, where 32 inches of snow fell in just a few days. Operations came to a halt with switches snow covered and frozen. We visit location's in Michigan and Ohio along the Detroit to Toledo line, and on the Michigan line which runs from Detroit to Chicago.
Approx. 55 Minutes...# 53178 $29.95 + s&h Order
East Broad Top R.R.

The "Other" Narrow Gauge RR...this one in Pennsylvania. EBT Mikes chuffing along rattly track only 3 foot wide, and the sound of a lonely whistle echoing across the valley...CD #60014 Order
Sounds of the Silverton N.G.

Early 1900's Narrow Gauge steam locomotives from the old Denver & Rio Grande, recorded with state of the art equipment...sounds that will knock your socks off! From loud whistles to side rod clank, to dynamic chuffs... CD #60015 Order
Norfolk Southern Vol-3

Deeper into the Rathole!

The fast-paced action continues as Green Frog's cameras take you deeper into Norfolk Southern's throbbing Rathole line from Oakdale, TN. to Somerset, KY. Watch trains highball over the busy track, through spectacular deep cuts dug in the early 1960's, some now being widened for double-tracking. Most tunnels have been daylighted or bypassed, but trains still roll through Tunnels 22 and 24 and across the long high bridge between them at Nemo, Tennessee. Highlighting this video is a few minutes of train action on the connecting Kentucky & Tennessee Railway, an old time short line, and the affiliated Big South Fork Scenic Railway at Stearns, KY. Enjoy vintage steam scenes on the K&T! Take a cab ride in the Big South Fork train, pulled by an Alco S-1 equipped with a steam whistle! We also visit a now defunct partially reconstructed coal mine. Order

Approx. 55 Minutes...# 53177 $29.95 + s&h
Feather River Canyon Spectacular

Rich Scheid's camera takes us to Northern California's 3 famous mountain passes. Visit the spectacular Shasta Route under the snow covered Mt Shasta. Visit locations like Cougar, Weed, Shasta City, Dunsmuir, The Trinity Alps Area, Castle Craig, Salt Creek Trestle, The Long Redding Trestle and more! Then onto fabulous Feather River Canyon and see locations like the Keddie Wye, the long trestle at Clio. then thru the Canyon to Pulga. And visit the treacherous Donner Pass from Reno to Truckee and then up and over the Pass with Union Pacific and Amtrak action. Then witness a rare sight when UP's 2 Steam Locomotives rush over Donner Pass with 844 on the point and it's Challenger behind pulling 22 UP passenger cars...
Approx. 55 Minutes... # 53176 $29.95 + s&h Order
Rails New York Metro

June 1, 1999 ushered in a new era for railroading in the Northeast as Norfolk Southern and CSX carved up Conrail. The New York Metropolitan Area suddenly found itself in the middle of the action as dramatic changes swept the area. Follow Green Frog photographer Richard Kugel as he documents action around New York City in the months prior to the Conrail split and the weeks that followed. We visit every major rail line radiating out of New York. Besides Conrail, Norfolk Southern and CSX, you'll see the New York Susquehanna and Western, Amtrak, New Jersey Transit, Metro North and Long Island Railroad.
Tape includes:
*CSX and Metro-North action in the Hudson River Valley...
*Susquehanna intermodal trains assaulting the brutal grades and curves on their line through Northern New Jersey...
*The Southern Tier including Moodna Viaduct, Otisville Tunnel, and Millrift Bridge...
*High speed Amtrak trains on the Northeast Corridor...
*Long Island Railroad's "operating museum" featuring commuter service with GP38-2's, MP15AC's, F-7's and Alco FA's...
Approx. 55 Minutes... # 53175 $29.95 + s&h Order
Solid Wood Train Bookends

Uniquely crafted, solid wood train bookends. Perfect for any decor with four fantastic finishes.


98000-Train Bookends---Painted Train ....$39.95 Order

98001-Train Bookends---Ash Train ..........$39.95 Order

98002-Train Bookends---Oak Train ..........$39.95 Order

98003-Train Bookends---Walnut Train .....$39.95 Order

Please add $8.00 for s&h
Burlington Northern - Santa Fe

(Cajon Pass-Canyon Diablo-Flagstaff)

Travel with Green Frog via the Professional Digital photography of Rich Scheid through spectacular Cajon Pass, Canyon Diablo, and Flagstaff on this whirlwind railroad video adventure through the far West.

At Cajon, we'll visit the scenic Tunnel District as well as Blue Cut, Sullivan's Curve, Mormon Rocks, and Cajon Station. Also included is beautiful footage taken beneath the snow covered San Gabriel mountains, including lofty Mount Baldy at 10,064 feet, and more!

Then travel to Canyon Diablo in Arizona as well as the Flagstaff area, where we'll see more electrifying video of Santa Fe War Bonnets, new bright orange BNSF's as well as Union Pacific and Southern Pacific units.

# 53174... 59 Minutes...
Northeast Vintage Diesels


From sharp 16mm color film You'll see the following railroads: B&O, Erie Lackawanna, Boston & Maine, Central of Vermont, New York Central, Nickle Plate, Norfolk & Western, Bessemer & Lake Erie, Jersey Central and Morristown & Erie. You'll see early EMD Geeps, F units, E units and Alcos. Cab rides on the N&W and the Nickel Plate... Shot in the late 50's and 60's...
#53173... 45 Minutes...$29.95 + s&h
1st Generation Diesels audio CD

By 1969 many were still operating--GP-7's, GP-9's, RS-1's, F-3's, F-7's, PA's,

E-8's...

39 Minutes... CD #60013 Order
The GP-9's audio CD

The Georgia Northeastern Railroad began operation in 1987. the road runs on the former L&N, then Seaboard trackage between Marietta, GA. and Elijay, GA. During 1988 Green Frog recorded audio of these amazing locos. Their sound is quite different from supercharged locos of today.
57 Minutes... CD #60010 Order
Steam & Diesel sounds of the 50's and

New Georgia Railroad audio CD

Nickel Plate Berkshire's,Passenger trains,Michigan Central, Twentieth Century Limited----Number 750 around Stone Mountain...Restored E-8 General Motors Diesel Loco back in 1986...
39 Minutes... CD #60011 Order
Steam & Diesel Sounds of the 80's audio CD

First Generation diesels are hard to come by in the 80's. Especially those running on daily schedules. In 1988 Green Frog recorded Alco RS-1's and GP-7's in daily service on the Chattahoochee Industrial RR in South Georgia.
44 Minutes... CD #60012 Order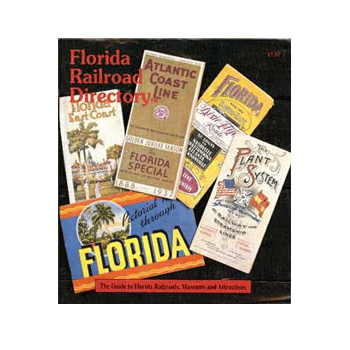 FLORIDA RAILROAD DIRECTORY
by: Michael Forrester...
The Florida RR Directory is a 48- page guide to Florida railroads, museums, displays,rides and attractions. Includes photos, maps, radio frequencies and more. A one-stop source of information on Florida railroading. This handy, Pocket-sized guide was written by former Amtrak supervisor Michael Forrester. We have a limited supply of these first editions. Originally $7.95, NOW JUST $6.00!!!
---
DVD Three Pak
Green Frog proudly presents three of its finest video's, now available on DVD. Through the courtesy of Madacy Entertainment, a three DVD package of these video's is now available for ONLY $34.95... Included are some great side stories, interactive programs and more!
Order #20000 dvd
Please add $6.00 for s&h
*Steam Giants Across America
*Twilight of Steam
*Steam in the 50's and 60's
---
|| All Aboard || Specials || E-mail Us || HOME ||
---
This page is produced and copyrighted by Green Frog Productions, 2000

We welcome your questions and comments. Please contact Green Frog at grnfrog@mindspring.com