Carson Picrom 26-Illinois Central Gulf 1973 to 75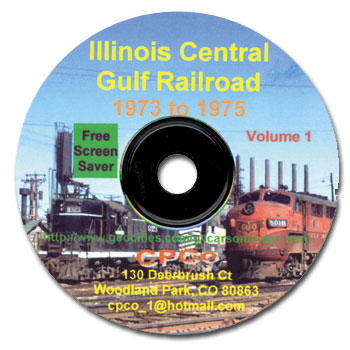 191 photos of the ICG in its early days during the transition period. A lot of the units were still in their original colors. Others have been re-lettered or repainted to early ICG schemes. Run Time Approx. 17 Minutes

From the Jerry Carson Collection!
Play on PC Only!
Photo CD?s featuring rail photos from the 50?s through the 80?s. The programs consist of high quality images compiled into a slide show with music background. They are supplied with both 800 x 600 or 1024 x 768 resolution to match your computer monitor. A complete printable file of all the photos in high quality jpeg format and free screensaver program included.