Standard Gauge Steam
The state of Oregon hosts the very last steam operated sawmill in the United States. This huge complex is served by a standard gauge railroad, itself operating vintage GP- 9 diesels. We'll take you on a complete tour of the workings of the sawmill, inside and out. We'll follow the logs from delivery, to the mill pond, to debarking, sawing, edging, sorting, and finished goods. We'll even take you into the boiler house where you'll witness a by- gone era of steam engines and boilers built around the turn of the century. If you are interested in, or model the logging industry you won't want to miss this fantastic video!

Approx. 30 Minutes...# 53180 $14.99 + s&h Order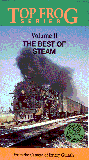 The Best of Steam...
From the Camera of Emery Gulash...This tape takes all of the very best of Steam material which appeared in many Gulash tapes released over the years. You'll see action on: Pennsylvania RR, New York Central, Nickel Plate, Rio Grande (narrow gauge), Erie Lackawanna, Steam in the Chicago area, Union Pacific...60 minutes. $24.95... Order tape #53074
---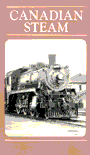 Canadian Steam...
50's action on both CNR and CPR, fastest paced steam action you'll see...25 minutes...$9.95... Order tape #53018
---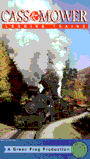 Carl Franz has been showing off logging trains on the Cass for over 20 years. These trains are running through the woods, up switchbacks, and double headed! Carl, along with his friend Robert Flack captured some of the most fantastic material ever shot of logging trains on 16 mm film. In this tape you will see Shay's #2, #4, #5 and #6, and Heisler #6 work logging trains up to lofty Bald Knob (4,842 ft.). You'll also witness action with Western Maryland Shay #6 on the Durbin branch (the now extinct ex-CGreenbriar branch).
In addition, the tape also includes more than 15 minutes of film from the predecessor to the Cass, the Mower Lumber Company. This 16 mm color footage shows the actual logging operations of Mower and other footage from Cass shot by photographer Robert Flack. Audio Mastered in Digital...
90 minutes... $29.95... Order tape #53120.
---

Classic Steam of the 20's Through the 40's
From Frank W. Schlegel collection of steam action in the Eastern part of U.S. Real steam as it was in the 20's through the 40's. You'll see Camelbacks on the Central Railroad of New Jersey, New York Central Steam, Steam on the New York, Ontario and Western, Reading Railroad, and Delaware and Hudson, plus MORE!...From 8 mm. film ...
60 minutes ...Black White... $29.95... Order tape #53114
---
THE NICKEL PLATE...From the camera of Emery Gulash. Steam and 1st generation diesels in the 50's and 60's, as well as the Akron Canton & Youngstown.
45 minutes...$24.95 # 53048 Order
---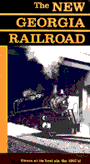 The New Georgia Railroad...
Restored loco # 750, a 4-6-2 struts its way around Atlanta...28 minutes... $19.95... Order tape #54006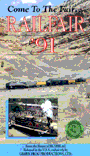 Railfair '91...
The finest tape produced of the 1991 Sacramento Railfair. Taped by a crew from Germany with spectacular photography. U.P. Challenger and Northern, S.P. trains, including a run up the coast, plus lots more at the Fair!...
60 minutes... $19.95... Order tape #57000
---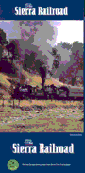 The Sierra Railroad...
Witness early steam doubleheaded on this beautifully edited tape about Hollywood's most photographed railroad.
Digital Stereo sound!...40 minutes... $19.95... Order tape #53066
---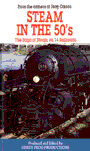 Steam in the 50's...
Spectacular coverage of steam on C&NM, MoPac, C&IM, NP, Pennsy, Grand Trunk, IC, B&O, N&W, CNR CP, Erie...
60 minutes... $24.95... 53006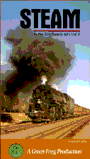 Steam in the 50's Vol. ll (and early 60's)...
From 16mm negative film of the Tom Strid collection. U.P. Big Boys, Articulateds, Duluth North-eastern 2-8-0's C&NW, LS&I, and more...35 minutes ... $24.95... Order tape #53061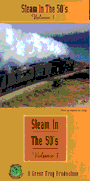 Steam in the 50's Vol. 3...
N.P., Klickitat Lumber, Rayonier Lumber, Hillcrest Lumber, U.P., Canadian Steam, DM&IR, and more!...
60 minutes ...$24.95... Order tape #53092
---

Steam Shortlines of the South
...15 different steam operated railroads in the South...from the 50's and early 60's. From 16 mm color film...0-6-0's, 2-6-2's, 2-8-0's, 2-6-0's and even Shays! Railroads included are: Moscow Camden St. Augustine RR., Bonhoine Hattiesburg Southern, Morehead North Fork, Buffalo Creek Gauley, Virginia Blue Ridge, Rebel Railroad, Tweetsie Railroad, E.T. W.N.C., North American Rayon, Graham County RR, Rocton Rion RR, Brimstone RR, Kentucky Tennessee, Mobile Gulf. Plus Savannah Atlanta's number 750 back in the 1950's. Stereo Hi-Fi Sound... Approx. 35 minutes... $19.95... Order tape #53109
---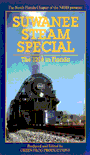 Suwanne Steam Special...
The 1218 in Florida. This is the best 1218 tape on the market, great Closeup pacing sequences of drivers in action...
60 minutes... $19.95... Order tape #53028
---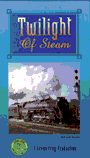 Twilight of Steam...
Spectacular 60's 70's action from 16 mm color film of these engines: 462 CP #127; Strasburg 2-10-0 # 90; Conway Scenic Railway #47; 2-8-0 Morris County Central #385, 2-8-0 #382; 0-6-0 #4039 (in snow); 4-8-4 Reading 2100 and 2102 (doubleheaded; Reading 4-8-4 in Dstyle; CN 4-8-4 #6218; CP 4-6-4T #47; Steamtown 2-6-0 #89... 60 minutes... $24.95... Order tape #53106
---
|| All Aboard || Specials || E-mail Us || HOME ||
---
No. 4501 Three Decades of Excursions...

Number 4501 was the first of 177 Mikados on the Southern Railway when she arrived from Baldwin in 1911. She is now the sole survivor in her class. After working for the Southern Railway, the rugged 2-8-2 put in more years on the Kentucky & Tennessee Railroad -- until she was purchased in early 1964 by Chattanooga's fledgling Tennessee Valley Railroad Museum. When the Southern Railway's legendary steam excursion program notched out its throttle two years later, bright green No. 4501 headed up some of its first trains. Early SR steam trains were the ultimate in simplicity -- with No. 4501 pulling a dozen open window coaches. No. 4501 has outlasted most of the other locomotives used in the Southern's, and later, Norfolk Southern's 28 year steam excursion program. While her peers are now cold and back in museums, No. 4501continues to proudly highball out of Chattanooga. Join us for vintage action of No. 4501 pulling excursion trains through the heart of the South, as well as from Pittsburgh to Washington to Richmond over two decades ago! We'll also follow a 1973 excursion of 4501 out of Chicago on the Rock Island to southern Illinois. Our video then fast forwards to the present. No. 4501 is back on the track again, thundering over the former Central of Georgia main line. One of the most durable institutions in railroading rolls on. See and hear this grand lady of steam pull three decades of steam excursions! Filmed in 16 mm color by outstanding photographers Emery Gulash, Jerry Carson, and Carl Franz.
90 minutes... STEREO Hi-Fi sound... $29.95 --- Tape # 53134
---
Steam Giants Across America REVIEW
Union Pacific, Duluth Missabbe and Iron Range, and Norfolk & Western...

There is probably no greater thrill than to witness one of the massive articulated or Mallet type steam locomotives whooshing by at speed with 100 or more cars, or blasting a column of smoke skyward along with one or two helpers on a long freight drag up a steep grade. Now witness this exciting action across America in the 40's and early 50's in full color from some of the nations finest 16 mm railfan photographers such as Robert Flack, Emery Gulash, Tom Strid, and Jerry Carson. With exciting STEREO sound, you will be thrilled as you view action on Union Pacific, Duluth Missabbe and Iron Range, and Norfolk & Western. As an added bonus we have included a few scenes of the last few runs of Norfolk & Western's 1218, and double headed action with Union Pacific's 8444 ...culminating in the most spectacular steam giants tape ever released!!
60 Minutes ...STEREO Hi-Fi sound ...$29.95 ...#53131
---
STEAM ON
THE NORTHERN PACIFIC
Follow the Northern Pacific as it displays a tremendous amount of steam in the 40's. This original film, transferred to video and Digitally enhanced, documents many of the fine locos found operating in regular service..mostly all color, and with HI-FI STEREO sound, this tape is for steam fans everywhere! You'll see some incredible train wrecks!!!, great snow scenes, and gobs of locomotives such as 2-6-2's, 2-8-2's 4-6-0's, 4-6-2's,
4-8-4's, articulateds, switchers, and much more !!!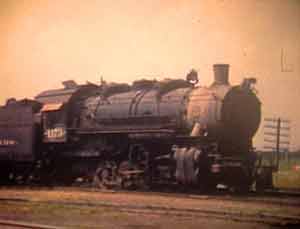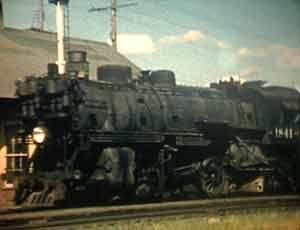 60 minutes...Tape # 53163...$29.95
---
Introducing 5 NEW tapes never before
released in the U.S. from New Zealand railroading past and present...
HI-FI Stereo Audio...$29.95 ea - all 60 minutes
TOTAL STEAM "Great New Zealand Railway Journeys". Order
All colour shot on Bolex and Kodachrome 1 film, with dubbed sound track which took hundreds of of hours to create.
This title features a variety of rail travel through all kinds of scenery and a fascinating line-up of steam engine power. We take an exhilarating run on ONE OF THE WORLD'S FASTEST EXPRESS TRAINS ON THE 3 FOOT 6 INCH GAUGE. These trains were hauled by JA 4.8.2s which using rollerbearings throughout could do 75 miles an hour. Other highlights include a journey along a local branchline behind a classic BALDWIN UB CLASS 4.6.0 DATING BACK TO 1901 and backblocks coal railways powered by the colourful BB class 4.8.0. With their low boiler and narrow firebox, small driving wheels and large steam and sand domes the BB would have graced any NORTH AMERICAN NARROW GAUGE RAILROAD. The J class "Mountains" were everyday workhorses equally at home on freight and passenger duties and we watch them in action through the rugged Karangahake Gorge with its 1 in 50 grade, viaducts, and notorious narrow tunnel in a location which could well be in the ROCKY MOUNTAINS. Climax features a brilliant fine day after a snowfall at Arthurs Pass, high in the Southern Alps. 1000 tourists are brought here in two trains. This place became known as KB COUNTRY after the massive KB 4.8.4s which ruled the rails from 1939. THE "B" IN KB WAS FOR THE BOOSTER which the engines needed in this rugged terrain with 1 in 60 ruling grades, even including short stretches down to 1 in 47. With a full load, amid a snowy landscape where mountains tower all around the KBs provide an experience of TOTAL STEAM which is unforgettable. Down to walking pace dragging 16 cars the KB is on top of the job and the safety valves are still blowing off! Overseas visitors agree this is A SPECTACLE THAT CAN BE EQUALLED IN FEW OTHER PLACES ON OUR PLANET.
NORTH ISLAND MAIN TRUNK "New Zealand's Epic Railway Story" Order
Colour and Black and White with full dubbed sound track
This is a story of one of the last railway engineering masterpieces in the New World, completed half a century after the rails met in the North American Mid West. Built by animals and men, originally with over 30 tunnels, half a dozen magnificent viaducts and countless cuttings, embankments and bridges the 425 mile railway even traversed a volcanic plateau past active volcanos and climbed to over 2600 feet. Faced by the rugged terrain the North Island Main Trunk was built to the limits of railway engineering of the day with curves as sharp as and gradients of 1 in 50, and even included a railway spiral with 2 tunnels at Raurimu which is still in use by the diesels and electrics of today! The triumph of the Main Trunk was of course the magnificent K and KA class "Northern" 4.8.4s which dominated this route from 1932 and of course action shots of these 150 TON LOCOS ARE A FEATURE OF THIS VIDEO, ESPECIALLY FLAT OUT ON THE 1 IN 42 OF THE WORLD FAMOUS RAURIMU SPIRAL. The K class is one of the best looking steam locos ever built, its massive appearance due to packing everything into the limitations set down by the loading gauge. Running on the 3ft 6inch the Ks are scaled down 4ft 8inch steam designs and are reminiscent of a dozen or so NORTH AMERICAN DESIGNS. Also used on the Main Trunk our J class 4.8.2 were streamlined when new in the style of the New Haven Railroad's 1400 class 4.8.4s, and our J shares more than just the same class name as the Norfolk and Western J class with its similar front end.
RAILS IN THE WILDERNESS "Bush Tramways in New Zealand" Order
Colour and Black and White with full dubbed sound track
This feature will be a popular seller in the USA because quite a few HEISLER and CLIMAX "lokeys" were bought from American manufacturers from the 1900s for work on the thousands of miles of flimsy railways laid for felling the massive New Zealand forests, as well as ALCO 53970/1907, the first American LOGGING MALLET ever built. All sorts of fascinating locos were used on the pioneer frontier, some of them built from spare parts! American technology was popular and one sequence shows a WASHINGTON LOG HAULER hauling logs from the bush to railhead. Today 4 CLIMAX lokeys survive in New Zealand. A feature of the video is a sequence of A DAY IN THE LIFE OF CLIMAX 1650 IN DECEMBER 1941. This unique sequence takes us up a 23 mile tram as the Climax heads out to the Bush (you call it the Woods) with empty trucks and returns with a full load of logs. On the way back home down the steep hill the fireman becomes brakesman and is seen running along the logs! Today CLIMAX 1203 IS STILL IN STEAM and is the LONGEST SERVING CLIMAX IN THE WORLD. Running along an old tram through the woods for tourists this modern day sequence with 1203 is an exciting sequel to the day's filming with 1650 over half a century earlier.
ON DENNISTON "Coal from the Clouds" Order
Colour and Black and White with full dubbed sound track
The DENNISTON INCLINE was a cable and gravity operated incline railway which operated as late as 1967. PLUMMETING 1700 FT FROM A REMOTE PLATEAU ON NEW ZEALAND'S WILD WEST wagons of COAL dropped at GRADES OF 1 in 1.25. As in North America this documentary about the coal industry during the age of steam shows the ingenuity which engineers employed to get the black stuff down from the hills. Incline railways were common in the US, but the Denniston Incline became known by many as the EIGHTH WONDER OF THE WORLD. Highlight of this feature is a "Roller Coaster" ride down the mile long incline on a Q hopper wagon of coal. Shot in cinema quality 35mm film we get an impression of how many people who lived and worked here used to travel on and off the plateau, 2000 feet overlooking the ocean, before roads were built. At the foot of the incline in earlier times the trains taking the coal to port were hauled by 1898 BALDWIN WB TANK LOCOMOTIVES and we were lucky to find some archive film of a WB.
RIMUTAKA INCLINE "The World's Last Fell Engine Railway" Order
Colour and Black and White with full dubbed sound track
Fell engines were an English design to haul trains up steep grades, and as well as their normal traction used horizontal wheels between the engine frames to grip a centre rail. The design was already obsolete when it was adapted in New Zealand in 1878, but the RIMUTAKA INCLINE was in service for 77 years and by the 1950's had became ONE OF THE MOST FAMOUS RAILWAYS IN THE WORLD. It was only in 1955 that the Incline was replaced by a tunnel beneath the mountains.
The amazing fact about this railway which CLIMBED NEARLY 1000 FEET IN 3 MILES, AT GRADES OF 1 IN 13, was that it was an integral part of the national railway system!
Highlight of this documentary are scenes of the incline WITH 5 ENGINES CUT IN THROUGHOUT THE TRAIN in all weather conditions, in sunshine and during storms, as the trains struggled to the summit. Operating the incline was a logitistical nightmare, and driving and firing the Fell engines a horror story. In the SUMMIT TUNNEL BENEATH THE ALPINE DIVIDE ENGINES RAN OUT OF WATER and tales of misadventure in the Incline Tunnels parallel the CURSE OF DENVER, LEADVILLE & GUNNISON'S ALPINE TUNNEL.
Over the years many designs were proposed but never eventuated to replace the Fell engine, including a BALDWIN 0.8.0T and there were claims that POWERFUL SHAYS USING NORMAL TRACTION COULD OUTPERFORM THE FELL ENGINES WITH THEIR CENTRE RAIL.
---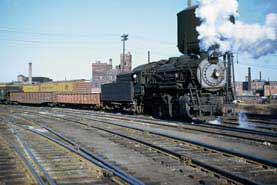 POSTWAR TRANSITION
The Boston & Maine
and other far Northeastern Railroads
face up to the changes in the 1950's
Very RARE Film!!...
The turbulent years following World War II resulted in dramatic changes to North American railroads. Events in the Northeast reflected this. The staid, old Boston and Maine Railroad, which dominates this steam action video shot by Edward Batson, went through the wrenching change from steam to diesel power. We see steam rush hour traffic highballing out of North Station as the first generation diesels appear on the scene--and then visit North Bellerica, several times to see steam power being cut up. Then, almost unexpectedly, a dramatic B&M management change resulted in new blue paint and sent ripples throughout the region's rail network.
A keystone of this video are rare scenes of B&M P4 Pacific No. 3713--now being resored at Steamtown--in snow melter service in the Winter of 1956, and leaving Boston on the memorable "Farewell to Steam" excursion on April 22, 1956.
Steam action is also witnessed on the Maine Central, New Haven, Central Vermont, and Grand Trunk in New England, and the Canadian National in Quebec. Then in dramatic developments, tourist steam roads briefly appear at Edaville Railroad, Steamtown in New Hampshire, and Vermont, and the American Freedom Train.
40 minutes...Tape #53158...$24.95
---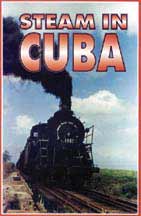 Professional Video NEVER before
seen in the U.S.
Steam in Cuba...
Cuba remains one of the final bastions of the steam locomotive. Shifting huge trains of sugar cane over lengthy stretches of track; including ventures onto the main passenger and freight trunk lines, this mighty display of steam at work covers a dozen mills. Cuba is the only place on earth to witness big American steam of such a wide variety of classes and wheel arrangements such as: Baldwin 2-8-0's, 2-6-0's; Alco 2-6-0's; Vulcan 2-6-0's and 2-8-0's; and Rogers 2-4-0's,and 2-6-0's.
Tape # 53159...54 Minutes...$29.95

---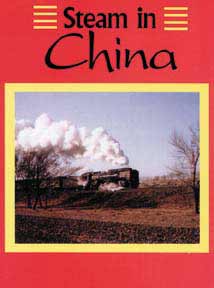 Steam in China...
Join professional photographer Phil Ross as he takes his cameras the length and breadth of China. From Tangshan through Shenyang, Changchun and Jilin to Harbin and Nancha and the industrial centers of Lanzhou and Bautou. Phil's camera captures the excitemment and spectacle of regular operations in below zero conditions in the last country on earth where steam trains are still manufactured. You'll see the QJ, JS, RM, SI, and JF classes on the main trunk lines in the North and West. Also witness rare gems including YJ 2-6-2's, SY 2-8-2's, GJ 0-6-0T's and ET 0-8-0T's, and ET 0-8-0T's. This is a veritable Mecca for steam nuts!...

1 hour 18 min...order Tape # 53160...$34.95.95
---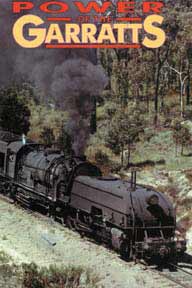 Power of the Garratts...
Described as one of the most impressive developments in the history of railway motive power, the Garratt locomotive was designed to optimize the power of two engine units together with a light axle loading. The Garratt monopolized steam in Southern Africa. Both archival and contemporary footage pound the grades, as only a Garratt can. Featured are 4-8-4, 4-8-4's; 4-8-2, 2-8-4's; 2-6-0, 0-6-2's in a number of gauges....
63 min...order tape #53161...$29.95
---
|| All Aboard || Specials || E-mail Us || HOME ||
---
This page is produced and copyrighted by Green Frog Productions, 2000

We welcome your questions and comments. Please contact Green Frog at grnfrog@mindspring.com
---