Neff DVD-N060-Detroit, Toledo, & Ironton/Grand Trunk Series Pt4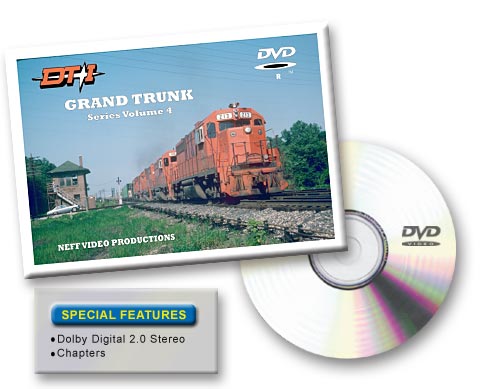 The time frame of this video is from 1985 to 1995. The first half shows DT&I orange and black as well as the GT blue, red, and white schemes.
Many cabooses are featured as the GT continued to use them even after the other Class 1 railroads had adopted the "FRED", or end of train device.
See EMD SD60 Demo units pulling a loaded GT coal train. View CSX detour trains on DT&I/GT trackage between Cold Springs Tower and Quincy, Ohio. Watch a rare SD38 on the point of a train. These units have since been sold to the Reading and Northern RR in Pennsylvania. Catch glimpses of the Bluewater Excursion Train from Detroit to Springfield in 1988. Watch this train being turned on the wye at Springfield Yard.
Other locations include: Rosewood, Ford Park, Thackery, Tremont City, Sharonville, Tates Point (Dayton), Second Street (Dayton), Snyderville, Fairborn, Ottawa, and Flat Rock Yard in Michigan.
One hour, color, sound, on-screen graphics depict locations and train symbols and no narration.